Franklin Pediatrics - Primary Care
loading...
---
Franklin Pediatrics is home to board-certified pediatricians who are committed to providing children of all ages and their families high-quality, attentive medical care. We are affiliated with the pediatric experts at Children's Wisconsin and can draw upon those resources to provide the highest level of care possible.
Flu shots
Flu shots are available at Franklin Pediatrics.
Dedicated doctors
The physicians and staff at Franklin Pediatrics are dedicated to making your child's development and medical care our priority. We look forward to providing your children with outstanding medical care you can trust.
Video: Look inside Franklin Pediatrics
Connected with Children's Hospital of Wisconsin
Franklin Pediatrics carries with it the Children's name. That means you can take comfort in knowing your child's doctor is affiliated with one of the top children's hospitals in the nation. If your child ever needs to see a specialist at the main hospital, our pediatricians will connect you directly with the best available doctor. And best of all, Children's specialists will keep your Franklin primary care doctor updated on any tests, diagnoses or treatments.
Children's On Call: Our symptom-checker app
Children's On Call is a free mobile app that helps you make informed decisions on what kind of care your child might need, and offers tips for making your little one feel better. Learn more about it: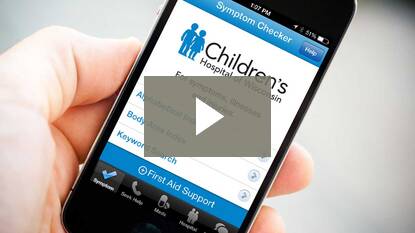 Appointments
Visits are by appointment only. Please try to schedule well-child visits and checkups several weeks in advance. We understand sick children may need to be seen immediately and same-day appointments are available.
We offer several options to make it easy for you to schedule your appointment:
Please call our clinic to schedule your appointment or meet & greet* today, or use our online form!
*A meet & greet visit is a free appointment that allows you to meet with the doctor of your choice and see if our primary care office is a good fit for your family. Please remember that this is not a medical consultation and the doctor will not treat your child or offer medical advice during the visit.
Calling us
Our clinic staff members are available throughout the day to answer any general questions, and urgent phone calls are returned promptly by a nurse or physician.
After hours
After-hours phone calls are directed to our answering service and are handled by an on-call nurse or physician. For emergencies, please call 911 or go directly to the nearest emergency room.
Billing and insurance
We work with many different insurance companies. In most cases, we can file your claim for you.
Hospital care
Kids in need of hospitalization may be admitted to Children's Wisconsin-Milwaukee Hospital, while those with minor injuries or problems may be referred to local urgent care clinics or emergency rooms. Franklin Pediatrics doctors are also on staff and available to see newborns at many area hospitals.
Well-child visit schedule
We recommend well-child visits at the following points in your child's life:
2 weeks
1 month
2 months
4 months
6 months
9 months
12 months
15 months
18 months
24 months
30 months
Every year starting at 3 years
You can view the American Academy of Pediatrics recommended well-child visit schedule for even more information on what to expect at each visit.
Of course, it's also important to check with your doctor for the best schedule for your child.
Vaccine resources
Immunization is key to preventing diseases, and we believe it's incredibly important for all children to be up to date with their vaccines. The Centers for Disease Control and Prevention has many resources available, including:
Resources for parents
Our Patient Handouts/Teaching Sheets educate parents and children on a variety of health topics, conditions and procedures. They are written by staff and updated regularly.
IMPACT 2-1-1 serves southeastern Wisconsin with community resources that help restore the health and productivity of individuals, organizations and workplaces leading to an improved quality of life four our entire community. Browse by service category or search by agency or program name in their database to find resources in your community.
Triple P - Positive Parenting Program
is a resource for parents to develop positive parenting skills to manage stress and encourage healthy habits.
Contact info
(414) 433-9010 (phone)
(414) 433-9007 (fax)
Street address
7322 W Rawson Ave
Franklin, WI 53132
Office hours
Monday - Friday, 8:30 a.m. to 5 p.m.
Children's Hospital of Wisconsin blog
Get helpful parenting tips and join the conversation on our blog.
MyChart
Access appointment information and medical records, manage prescriptions and message your child's doctor. Learn more about MyChart.